GETTING STARTED
See video
To become a companion on Smooci you will need to download our Escort app which is available for all android phones.
The Smooci Escort app allows you to create and manage your profile, and to show when you are online and available for bookings.
Bookings will arrive direct to your app and in-app tools will help you to manage your bookings and schedule.
When you download the app and open it for the first time you will need to grant permissions and allow the app access to your SMS.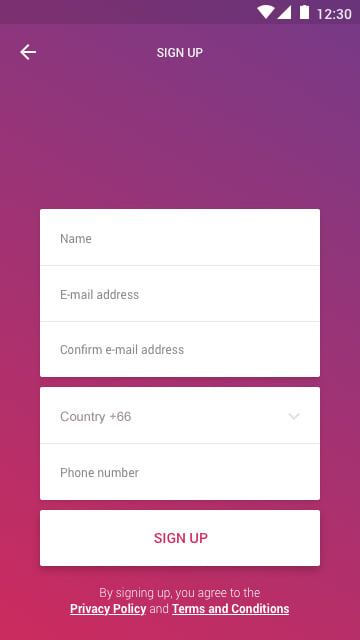 Sign up screen
If you are a new companion you will first need to click SIGN UP to create your account.
To create a Smooci account you will need to give your escort name, email address, and phone number. Please make sure to use an email address you can access and a phone number which can receive an SMS.
Your name will be the name shown on your public Smooci profile, and you will need to be able to verify your email address and receive an SMS password to enter your account.
LAYOUT
See video
Once your sign up is complete you can start creating your profile.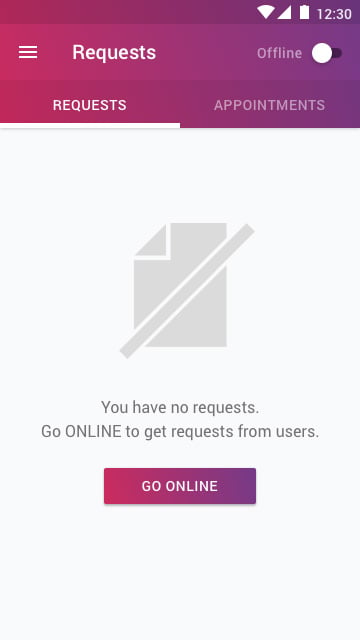 Home screen
On the home screen of the app you will see:
REQUESTS – this is where you will find any booking requests which are sent to you
BOOKINGS – this is where you can see any upcoming bookings you have.
On the top right is the ONLINE button. Once you have completed your profile you can click this to go online any time you are available to take bookings.
On the top left of the app you will see the MENU icon which you can press to see more options.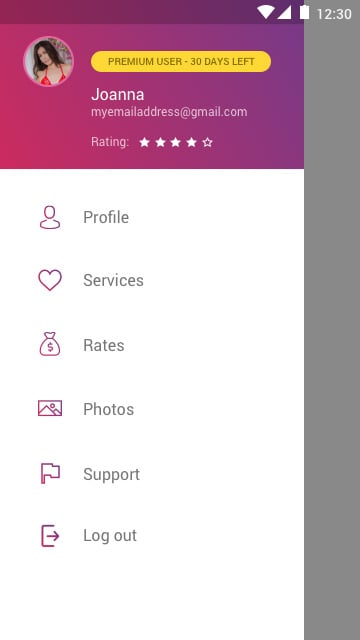 Menu
At the top of the menu you it will display your default profile picture, your response rate, and your account rating.
Your response rate shows the percentage of bookings you respond to and your account ratings is out of 5 stars, and an average of the booking ratings your clients have given you.
PROFILE
See video
First you will need to create your profile page.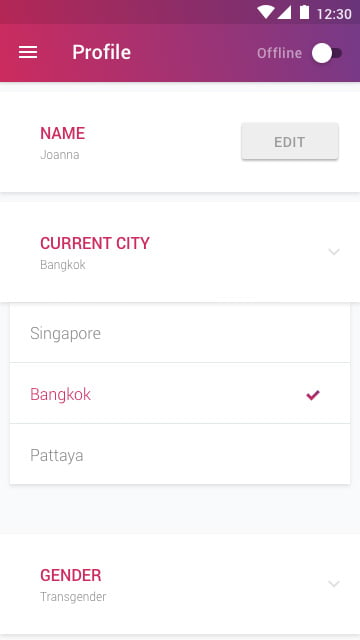 Profile screen
Your name should be a name only and not a headline. Please only use letters, with no numbers, alternative characters, or emojis. After you have accepted your first booking you will not be allowed to change your name within the app.
It's important that you fill in your profile details as honestly as possible in order to receive high ratings and positive client comments.
When selecting current city, please only select the city you are currently in. Changing city will reset your rates and likes and the app will only allow you to go online in a location when you are physically there.
Once you have filled in your details you must press SAVE at the bottom of the screen.
LIKES
See video
To go online you will need to select at least 1 like.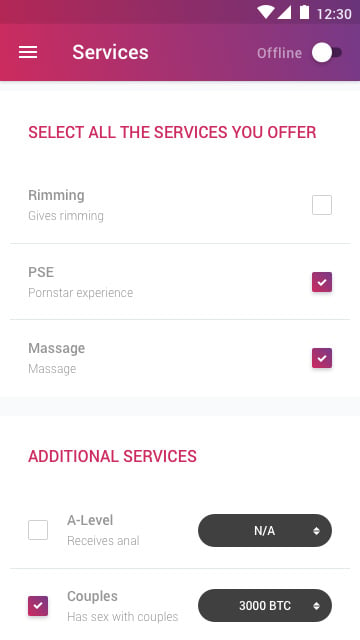 Likes screen
You can select and deselect likes at any time, but it's very important to only select the things you like.
If there are any likes listed that you do not understand please contacts us to ask.
Selecting additional likes allows you to set extra costs, which are added to your booking fee.
RATES
See video
You will need to select at least one rate in order to appear online.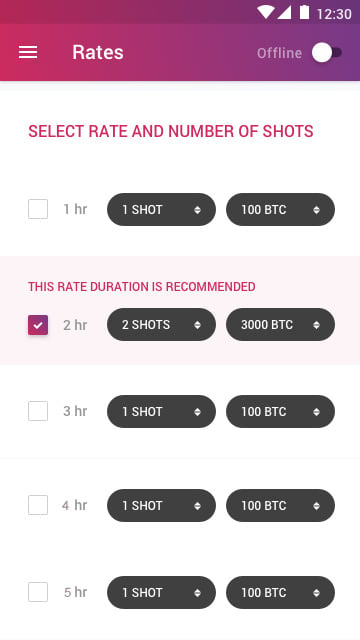 Rates screen
When you select your first rate it will activate all rate options. It's important that you review these and set the appropriate number of shots and rate fees, and deselect the durations you don't want to offer.
We suggest companions fill in all rates, and deselecting any rates will lower the number of bookings you get.
At the bottom of the rates page you can also edit the Cancellation Policy and Payment Options. These are free text spaces to add your own private policies.
PHOTOS
See video
You will need to have at least one photo uploaded to your profile in order to go online.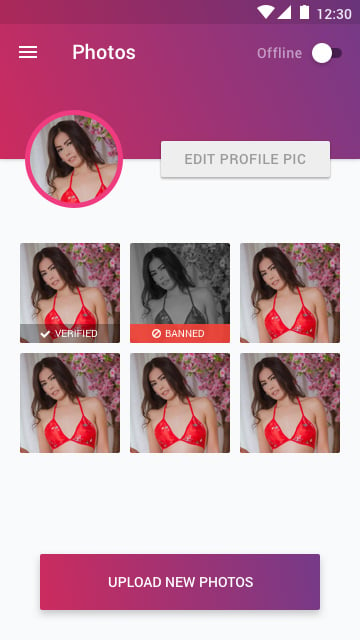 Photos screen
Photos must be clear, showing only one person, with no text or numbers. We also do not allow x-rated photos which includes showing nipples.
You can have a maximum of 6 photos on your profile at any one time and can remove and add photos at any time.
Photos are voted on by the clients you meet and can earn verification stickers to show they are accurate, but if you remove a photo it will lose its verification.
When you upload a photo it will show as 'reviewing'. This means it has yet to be approved by the Smooci team but reviewing pictures will still show on your profile and allow you to go online.
GO ONLINE
See video
Once your profile, rates and photo pages are complete you can go online by clicking the online button in the top right or the home screen.
Any time you are online your profile will show up in relevant search results on the Smooci site and you will be available for clients to send you booking requests.
It's important that you only go online when you are available to respond to booking requests, and that you go offline when you are busy.
REQUESTS
See video
When a client requests to book you, the request will appear in your booking requests on the home page.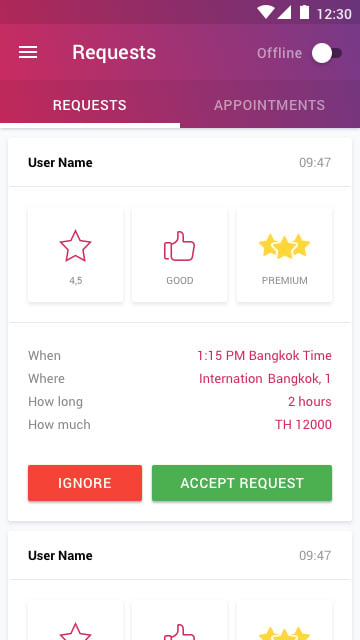 Booking requests screen
As well as receiving a notification from the Smooci app you should also receive an SMS to tell you that a booking request has arrived.
Once you receive a booking request you have 10 minutes to accept or reject the booking.
If you do not respond to a booking within 5 minutes you will receive another SMS to remind you to respond. If you do not respond to a booking request within 10 minutes the booking will automatically be rejected and you will be set to offline until you click to go online again.
When you receive a booking you will receive the full client details, including client location and address, contact number, and confirmed details of the fees.
You will also receive details showing whether your client is a premium member, whether they have had previous bookings on Smooci, and their average rating from other escorts.
This information will help you decide whether to accept or reject the booking.
When you click accept the client will be sent a message to say that the booking is confirmed and it will then be moved to your bookings tab.
BOOKINGS
See video
You can see a confirmed booking at any time by clicking in the bookings tab and clicking on the booking.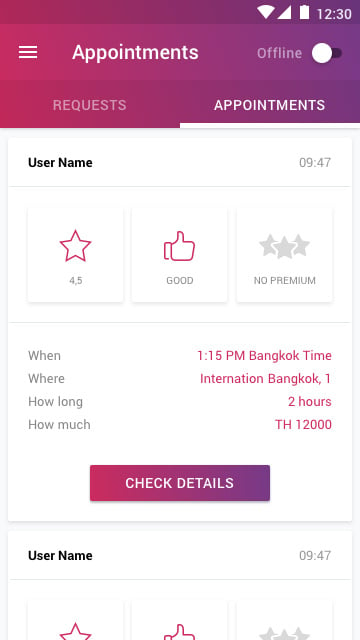 Bookings screen
At the top of the booking you will see a GPS symbol which will show your clients location on Google maps, and buttons which allow you to message or call the client directly.
At the bottom of the booking you will see the 'cancel' button and 'start' buttons.
CANCEL BOOKING
See video
You can cancel a booking at any time by hitting the cancel button. This allows you to select a reason for the cancellation and when confirming, it will then inform the client that the booking is cancelled.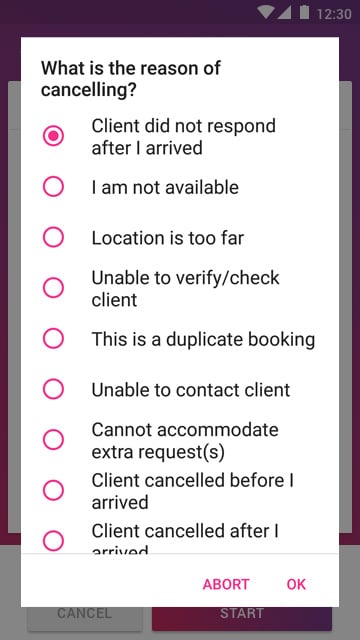 Cancel booking
It's important only to cancel bookings when necessary. Cancelling too many bookings will cause your account to appear lower in search results and make it harder to receive bookings.
START
See video
When you are ready to start your journey to meet your client please press the 'start'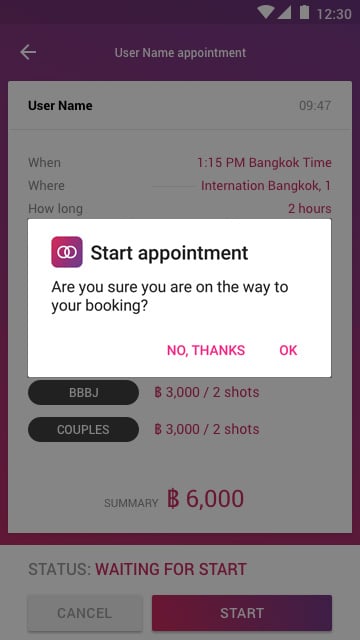 Start booking
When pressing this button the client is informed that you are on the way to meet them and the client can track your progress.
This feature will never reveal your start location. When you first press it the app waits for you to move a safe distance from your home or start location before revealing where you are on your journey.
If you fail to use this feature correctly it can harm your ratings and cause you to get complaints. And if you continually fail to use this feature it will affect your ability to receive bookings.
COMPLETE
See video
Once your booking is complete and you have left your client you can press the 'complete' button.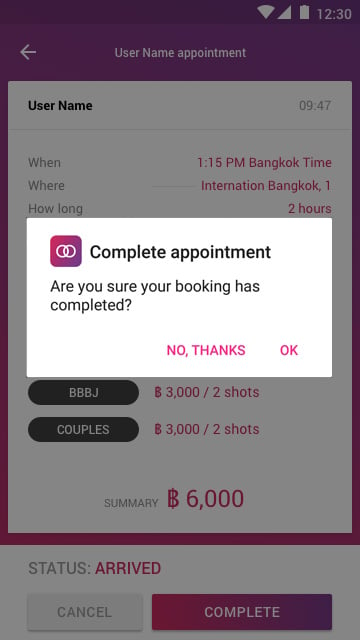 Complete booking
Doing this will make you available to take more bookings and send you a link so that you can rate your client.
You can rate your client our of 5 stars and you will have the ability to send us a private comment to let us know if you have any issues or complaints about the client or booking.
SUPPORT
See video
If you are having any problems with the Smooci app you can contact us via the support link in the app menu. This will give you a message box to contact us directly.
Replies will be sent direct to you private email.
PREMIUM ESCORTS
Clients pay booking fees direct to you
Smooci do not take any part of your booking fee. When a client pays you for your booking, the money goes direct to you and not through the smooci app or any part of the smooci site, and you do not need to send us any fee.
You can use Smooci for free
The Smooci Escort app can also be used for free. The first 3 bookings you accept will not receive any restrictions, and after your third booking you will be allowed to accept one booking every 3 days.
Or be a Premium Escort
Premium accounts allow you to receive unlimited bookings and will have no restrictions. You can purchase a premium account at any time via the premium link in the app menu.
Payments for premium memberships are non-recurring, which means all payments are one off and can't be automatically renewed.
TIPS
Get good rates and positive comments
Clients look at Escort ratings and read their comments when selecting who to book. The Smooci app gives you the tools to give high levels of client care, so it's up to you to follow the rules and take care of your ratings and comments.
Only go online when available
Only go online when you are available to take bookings. Clients make live bookings and expect to have their booking accepted or rejected quickly. If you fail to respond to a booking within 10 minutes the booking will be rejected and your response rate will be lowered.
Fill in all your rates
Fill in all your rates. By filling in all your rates you will appear in every possible search result when you are online. This will help maximise the number of booking requests you receive.
Use clear and accurate photos
Use clear and accurate photos. The number one reason for low ratings and negative profile comments is inaccurate photos. And photos which receive a verification and a lot of positive comments also receive a much higher number of bookings.
Fill in your profile correctly
In order to get good comments and high ratings it's important to fill in your profile correctly. Misleading or false information are another big reason for low ratings and bad comments.
Always use the 'one my way' feature
The 'on my way' feature is very popular with clients. Make sure to press this every time you start your journey to meet a client and it will help you create and maintain a high level of professionalism.
Inform clients when you are running late or being held up
If you are running late and haven't started your journey, or are held up on you way, please use the direct contact links to let your client know you are running late. This will help you keep your client happy and earn that positive feedback.
If you have any problems or need further help with anything Smooci related, please contact us via the app support link, or via email address contact@smooci.com